Student Vocalists Perform in WV All-State Children's Chorus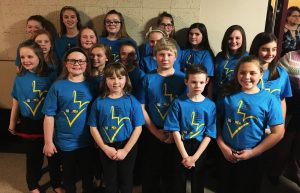 Nearly 20 students from Marshall County Schools were invited to sing at the West Virginia Music Educators Association's All-State Children's Concert this past Friday in Charleston.  The county is well represented in the children's ensemble each year, thanks to devoted teachers who are willing to put in extra hours of rehearsal to prepare students.
The process to determine participation for this ensemble is simple. Teachers, who must be a WVMEA member, register in the fall indicating they would like to sponsor students.  They provide total school enrollment statistics and the number of students enrolled in school chorus.  Based upon that information, teachers receive allotments for their school.  Teachers are free to nominate/audition for their school spots and are encouraged to select their top vocalists.
Music is mailed to each teacher and they are responsible for teaching all of the music to their students.  Students then travel to the WVMEA conference and rehearse with a guest conductor for two days prior to the concert on Friday evening.
This year's ensemble consisted of 265 singers representing 97 different schools. The guest conductor was Greg Gilpin, a highly respected, award winning international choral conductor.
The following Marshall County students performed at the Municipal Auditorium:
Caitlyn Conner, Cameron Elementary School- Director Donna Clark
Shaleigh Littleton, Cameron Elementary School- Director Donna Clark
Isabella Wise, Cameron Elementary School- Director Donna Clark
Adrianna Cubick, Center McMechen Elementary- Director Marlena Sell
Arionna Frame, Center McMechen Elementary- Director Marlena Sell
Jadyn Parker, Glen Dale Elementary- Director Marlena Sell
Quinn Yoders, Glen Dale Elementary- Director Marlena Sell
Elizabeth Howard, Hilltop Elementary School- Director Carrie George
Audrey Lemmon, Hilltop Elementary School- Director Carrie George
Laurel Shipley, Hilltop Elementary School- Director Carrie George
Mandy Gray, Moundsville Middle School- Director Kathleen Fox
Tessa Hewitt, Moundsville Middle School- Director Kathleen Fox
Aubree Robinson, Moundsville Middle School- Director Kathleen Fox
Brooke Sharp, Moundsville Middle School- Director Kathleen Fox
Alexis Cumberledge, Sherrard Middle School- Director Michael Murphy
Lexie Finley, Sherrard Middle School- Director Michael Murphy
Adrian Haynes, Sherrard Middle School- Director Michael Murphy
Tyler Minch, Sherrard Middle School- Director Michael Murphy
Maitlyn Miller, Washington Lands Elementary- Director Erin Anderson
Rylan Robinson, Washington Lands Elementary- Director Erin Anderson
Johnna VanScyoc, Washington Lands Elementary- Director Erin Anderson