Marshall County Back-to-School Fun Fair Planned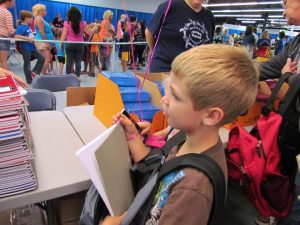 The 16th annual Marshall County Back-to-School Fun Fair will be held on Wednesday, August 3, 2016 at the former West Virginia State Penitentiary in Moundsville from 8 a.m. until noon.
The "Fun Fair" is open to any Marshall County School student, pre-school through 12th grade, who is accompanied by an adult.  Each child will receive free school supplies which includes a backpack, pencils, pens, notebooks and more.
All other services offered at the "Fun Fair" are also free.  The Marshall County Health Department will provide check-ups and hairstylists will be giving haircuts.  Nearly 50 different agencies will be on hand to assist students and parents.  Pizza will be served for lunch.
Marshall County Schools employee Susie Baker started the "Fun Fair" because of her own childhood experiences and her observations as an adult.  "I was the child who felt sad every year about going to school with nothing.  I saw a need in Marshall County and didn't want any kids to have to feel the way I did growing up."
Since 2000, the "Fun Fair" has become a popular way for Marshall County students to celebrate a return to school.  Last year more than 1,200 families took part in the event.  Attending gives participants a chance to win prizes such as Kennywood Park tickets, bicycles and more.
There are no income guidelines to participate in the "Fun Fair."